Products

Seaweed Therapy Products

Karma Clinic Seaweed Therapy Kit bag

£49.00

£30.00 GBP

K. C. Seaweed Therapy kit Bag
Contains:

1. Seaweed Bath soaks
2. Seaweed Facials
3. Seaweed Full Body wrap & Body Wrap Sheet
4. Seaweed Joint wraps
5. Mixing spatulas


100% pure seaweed products will be available to order online from Summer 2014

Consumer quotes

"After completing the UK Wild Challenge my lower leg had swollen, looked more like an elephant. The seaweed mud wrap was the first think that actually reduced the swelling and eased the pain. I used it every day for four days - recovered way quicker than expected - now I'm ready for the next challenge."
See photo David Pollock, Chief Executive, Chess Telecom

"The pain relief was virtually instant - I highly recommend it. The next day very little or no pain was experienced!" After my bath soak, I felt very chilled out and ready for a night's sleep. The relaxed sleep without any pain was evident!" [Medical condition: Painful Arthritic hips with one new hip replacement]
Ray Oddie, Cheshire, UK

"When I feel stressed, I suffer with problem skin, such as spots, red patches and sleepless nights. I used all the products, the cleansing bar daily, seaweed facials weekly and a few bath soaks. After a few weeks my skin was healing, no red patches left. I had silk like soft skin, shinny hair and after my Seaweed bath, the deep sleep was an added bonus. Thank you"
Cindy Parker, Cheshire, UK

"My child has mild eczema, so bath time is a major issue as he dislikes the water. He becomes upset as bathing time results in dry, itchy irritated skin. We then have to apply thick moisturising creams. The seaweed baths have taken the stress out of bath time. My child now loves bath time and his seaweed. His skin is very soft after bath time due to the sap in the seaweed and we have seen an improvement in skin tissue healing. We are now applying the creams less often. Result!"
Judy Robinson, London, UK



About Jenna Robins

BSc (Hons) Traditional Chinese Medicine & Acupuncture

''My aim was to develop and provide 100% Pure Eco Friendly Seaweed products. I want everyone to enjoy the health benefits of seaweed and experience Traditional Celtic Seaweed Therapies within the comfort of their own home!''




Jenna Robins, Founder of internet business Karma Clinic & seaweedtherapy.co.uk. Guru of all things Mind Body & Spirit, Jenna is a Classical TCM Acupuncturist, Holistic and Deep Tissue Massage Therapist, Seaweed Therapist, Radio chat show host and Columnist, with 20 years clinical experience. Jenna has tried and tested her pure seaweed products on clients in clinic with positive results!





The Karma Clinic website: Launched in August 2006, with the aim to introduce Jenna's clinics, treatments, articles and products. Jenna Robins of Karma Clinic will inform you of complementary health treatments and products that are active and effective!


Jenna Robins is available for TCM Acupuncture and Deep Tissue Massage Treatments in clinic. Go to www.jennarobins.co.uk for more information about Jenna's clinic days and locations.
Karma Clinic Seaweed Products

| | |
| --- | --- |
| | 100% natural |
| | Contain NO artificial ingredients or preservatives |
| | Eco Friendly |
| | Hand Harvested |

Seaweed Therapy Kit contents:
Large Natural Cotton Drawstring Bag
Designed to hold all your seaweed products in and for reuse.
Click to enlarge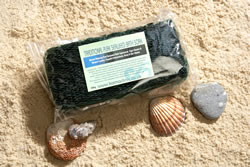 Pure Seaweed Bath Soak Pouch - 200g
Treatment: 4/6 seaweed bath soak treatments.
A 200g pouch of pure dried seaweed.
A totally natural and deeply relaxing seaweed bath experience.
Ideal for adults and children. An amazing body tonic leaving you totally relaxed.
This bath pouch contains a high vitamin and mineral content. Packed with B vitamins for stress and minerals for the muscles, you will absorb the benefits of the seaweed through your pores. This seaweed will relax muscular tension due to the high mineral content, ease and reduce sore stiff muscles and joints, help reduce inflammation, help reduce painful symptoms from arthritis, rheumatoid arthritis, lupus, sports injuries, or labour intensive over worked muscles. Seaweed acts as a powerful antioxidant, safely carrying chemicals and toxins out of the body. Seaweed aids the healing of sore irritated problem skin, such as eczema, spots and psoriasis. Eliminate stress, reduce cellulite and achieve a really good night's sleep. Seaweed is anti-viral, antiseptic, anti-bacterial and anti-fungal. Seaweed baths are a powerful detox helping your body eliminate and carry out toxic waste and pollution. Seaweed will rehydrate your skin, feed it with protein and feed your joints with calcium. Your skin will be soft and silky. Feel the difference!
Click to enlarge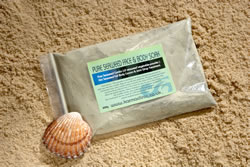 Pure Seaweed Face & Body Soak - 200g
Treatment: 3 types of seaweed/combo powder.
One full body wrap and four facial treatments or two full body wraps or ten isolated joint wrap treatments and endless seaweed facials. It's up to you which treatment you choose!
This pure seaweed combo powder is very healing to the skin and muscles. Directly applying the hot seaweed paste will help clear problem skin, such as spots, eczema and helps psoriasis. If the hot seaweed paste is directly applied onto sore swollen inflamed joints, muscles and sports injuries, then wrapped up for 20 minutes, this seaweed combo powder will aid healing, help reduce pain, inflammation, muscular spasms and tension. As a beauty treatment your skin and muscles are fed with minerals, vitamins, anti-oxidants, proteins and calcium leaving your skin amazingly smooth and silk like. A truly fantastic anti-aging and anti-wrinkle treatment - see and feel the results for yourself!
Click to enlarge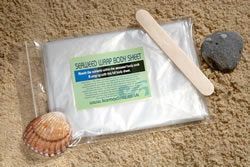 Full Body & Isolated Joint Wrap Sheet
Treatment: This sheet is provided with instructions for the full body seaweed soak and isolated skin and joint wraps. You can wash and reuse this sheet and recycle it.
Wooden Spatula
This spatula is provided to help you mix and apply the pure seaweed combo powder. You can use your hands to apply the seaweed all over your body and face, or use this spatula to help you mix the hot seaweed paste and to apply your seaweed facials.

COMING SOON
INDIVIDUAL PRODUCTS FOR PURCHASE