Problem Skin and Eczema Treatments
LOVE YOUR SKIN
SKIN is the protective organ of the body. Skin protects us from outside bombardment from chemicals, infection, injury, micro-organisms, extreme temperature and light.
Through skin we have physical contact with our environment. As our skin is a reflection of our inner functions, when we are ill, we are pale, when our hormones are not balanced we get spots or acne. Stress of course, affects the appearance of our skin, adding further irritation to dry skin or Eczema.
To look after our skin we can use plants to balance our body, cleanse our liver and kidneys, in turn improving the tone, appearance glow! We all need that.
---
SEAWEED, THE PURE TISSUE HEALER - CLEAR YOUR SKIN
"MEDICINAL SEAWEED" is an all round body tonic, for mind and body maintenance!
Beat the Autumn blues
Sooth and heal sore problem skin
Aid treatment of skin conditions like Ezcema and Psoriasis
Melt muscular tention
Reduce pain
Feel deeply relaxed after a seaweed bath soak!
Seaweed is a tried and tested remedy for skin complaints and Eczema
"Customer Comments" about Karma Clinic's Eco friendly 100% Pure Seaweed Products!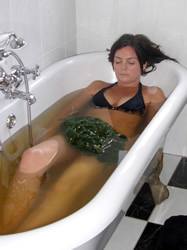 "When I feel stressed, I suffer with problem skin, such as spots, red patches and sleepless nights.

I used all the products, the cleansing bar daily, the seaweed facial soak weekly and a few bath soaks.

After a few weeks my skin was healing, no red patches left.

I had silk like soft skin, shinny hair and after my Seaweed bath; the deep sleep was an added bonus.

Thank you Karma Clinic"

Cindy Parker, Cheshire, UK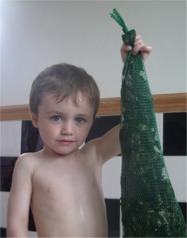 "My child has mild Eczema, so bath time is a major issue as he dislikes the water. He becomes upset as bathing time results in dry, itchy irritated skin. We then have to apply thick moisturizing creams. The seaweed baths have taken the stress out of bath time.

My child now loves bath time and his seaweed. His skin is very soft after bath time due to the sap in the seaweed and we have seen an improvement in skin tissue healing. We are now applying the creams less often.

Result!"

Judy Robinson, London, UK
Seaweed can help heal Psoriasis!
Skin complaints: If you suffer with Eczema or Psoriasis or problem spotty skin, this treatment will help reduce sore irritated skin and aid tissue healing. Seaweed is one of the most effective natural Eczema treatments around.
Why not try it for yourself or pass this information on to a friend or relative who could benefit. I've used seaweed in my clinic for years and it really does help reduce symptoms and heal!
For further information on my amazing professional seaweed therapy kit, or to purchase this product, go to the products section of the Karma Clinic website.
If you have any further questions please do not hesitate to contact me.
Kind regards and good health!
Jenna Robins.